Your own customised library
Customised product library consisting of your BIM and CAD objects and related information. It can be downloaded from our software directly into the user's own design software.
Advantages
Increase the usage of your products: makes them accessible for architects, structural engineers, specifiers & other designers.
Digital content can be made in formats of the most popular design software such as AutoCAD, Revit, Archicad, Tekla Structures and SketchUp.
Details and objects help present the best features of your products.
PRO Tips on how to make the most of it
You've put a lot of effort into designing the library hierarchy, images and features you want your users to appreciate. Consider things like, which are your innovative or top brand products you want to emphasise? Use our UI generator tool in design work!
Increase your search engine results by using multiple key words.
Embedded library
Product library embedded into your own web page. Users can browse files and download them directly from your page.
Advantages
Simple method to provide your product selection for a targeted audience, i. e. architects, engineers and specifiers and other designers.
Users still have access to the whole ProdLib library range.
PRO Tips on how to make the most of it
You can present your other optional design tools shown on the same informative web page.
Use it as a landing page for marketing - highlight product content, that brings up traffic to your web pages and boosts your brand awareness.
Enhanced collaboration: the embedded library brings architects and structural engineers into contact with you. Interested users can now easily connect with your own product specialists and ask them questions, so why not tempt them into a chat?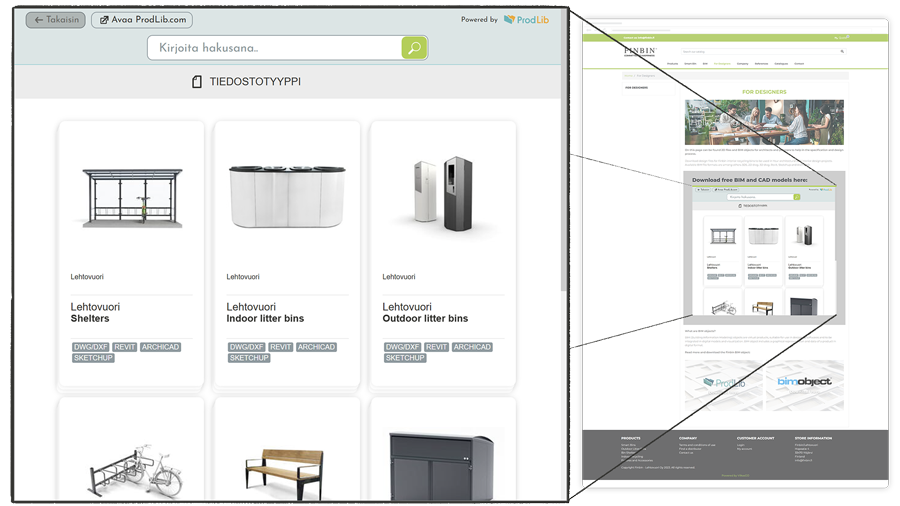 Online library
An online version of ProdLib. Users can search for products and download individual files after registration.
Advantages
Diverse search options – like brand, filetype or classifications- provides users with easy access to find suitable products. Also helps the designer to make comparisons or find new innovations.
The data is always automatically up to date.
PRO Tips on how to make the most of it
Build up your library content gradually. This enables the development of the library in stages.
Based on our customer surveys, most designers expect you to have comprehensive content in your library.
Updating your library content on a regular basis is beneficial – we take care of informing users about updates on our news feed & in our newsletter! Read more about marketing options.
News about product updates are also shown in your library so even those who don't have time for news right now, can catch the headlines.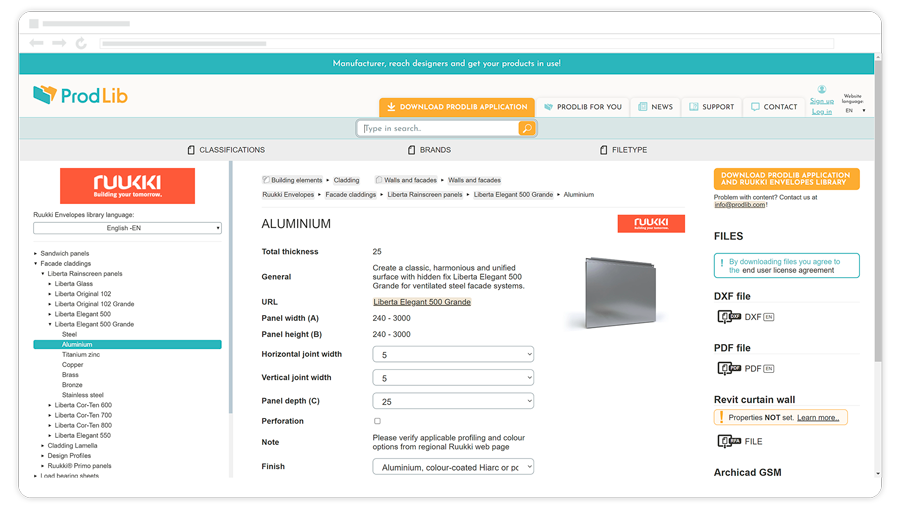 Library within a tool – a customised BuildUp library
BuildUp is a one of a kind - an efficient tool for creating, editing and storing walls, floors and roofs. Users can add layers, select the right materials and insert the finished buildups into their projects with correct material information.
Advantages
Speeds up design work substantially by providing genuinely supporting features for modelling environment.
All materials with product information are automatically added in Revit project based on the selected structural choice and its material layers.
Information can be reported from the project, whether it's quantities, masses, or consumption.
The product data is always automatically up to date.
Clear interface.
PRO Tips on how to make the most of it
Improved accuracy: the ability to assign values to products / layers of the structure, such as CO2 values, provides a more accurate picture of the environmental impact of the building.
Enable users to select more sustainable choices – with your products.