Why architects and engineers get frustrated in design projects and how we can help them
In modern building design projects time management plays a significant role. The amount of information is overwhelming and change is constant – all this takes more time than designers have available.
Architects, Engineers, and Specifiers have the common target of working productively by using powerful machines, versatile software and different design tools to achieve project targets effectively.
90 % of our interviewees and user survey respondents named the search for project specific products to be the most time-consuming part of the designing and drafting work** ProdLib research in 2022
Designers make considerable efforts to find suitable products. Their searches cover previous projects, different platforms, search engines, manufacturer web sites.
And even then, after finding the suitable product there´s one frustrating part left: designers need to test in their software if the details and objects can actually be modified to match their project requirements.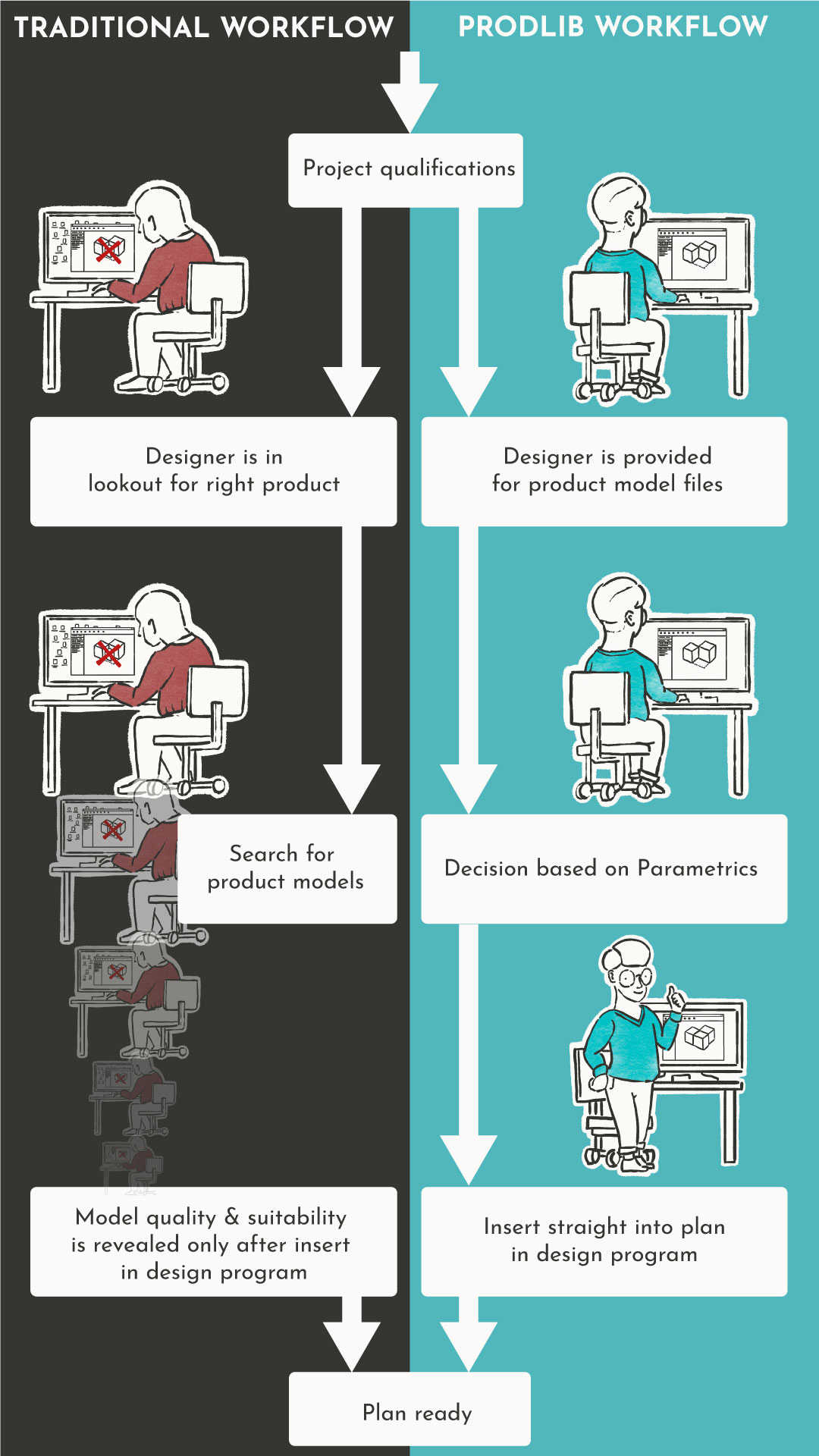 Why prodlib workflow speeds up your business too?
It´s also a common fact that the more times manufacturers products get specified, the more orders they get. To get your products specified they need to be available on platforms, that designers like to use.
We create content for following applications and formats: AutoCAD and AutoCAD LT (DWG and DXF), Revit, Tekla Structures, Archicad and SketchUp.
Our objects are created for the purpose where they are needed. Our team has extensive design experience from real-life projects, so the starting point for creating our products is always "would I use these details and what kind of adjustments usually needs to be made?"
ProdLib workflow offers several advantages for designers that speed up the design work:
Objects can be easily compared and modified,
Tools that speed up design work, and
Content that is always up to date.
In addition, we offer several ways to search for and use the content.
We specialise in sharing products and related information that users need
ProdLib libraries offer users detailed, accurate and relevant BIM & CAD models and related information. We deliver digital design material for your products via the four different solutions of our platform: online, software integrations, embedded library on your own site and BuildUp for creating, editing, and storing walls, floors and roofs.